Portfolio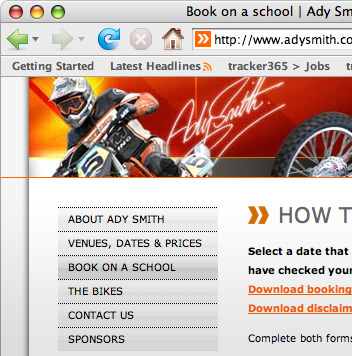 Ady Smith Website Ady Smith
Multiple title winning enduro and supermoto rider, Ady Smith, now offers off road and supermoto schools to everyone. The site follows styling developed by us for stationery and promotional leaflets. The Content Management System (CMS) allows Ady to change and update all text and pictures on the site. This is one of our GoLive website packages starting at only £795.
More… Projects
Promotional site for off road motorcycling schools.
An opportunity to find out about car rallies abroad.
A custom built website to request insurance quotes.
Promoting F1 driving simulators for corporate events.
A full e-commerce website for training courses.
Marketing tool for this independent driving instructor.
A powerful website for TV mount retailers and customers.
College website with powerful features.
The future is here
The potential for developing your business online is constantly growing. Here lies the future of mass communication and collaboration. Let us guide you through the possibilities and help you harness new ideas and technology.